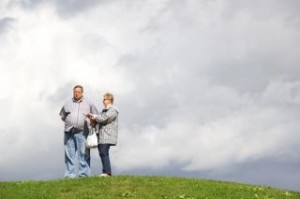 Encouraging Family Members
While this blog is committed to informing readers about relevant home health topics, I wanted to take an opportunity to encourage families who have a loved one in home health or assisted living.
My grandfather is currently in assisted living to help rehabilitate him after a scary incident that took him from normal life to holding on to his life in ICU. While the details of the incident are long, I know the story is probably very familiar for many of you.
Everything is always fine – until it isn't. I know that seems very vague, but I feel like many times these incidents come out of mid-air and throw families for a loop. I know it did that to mine.
As we questioned whether my grandfather was going to live, we never imagined that just two weeks later he would be in assisted living, getting the medical care and therapy he needs to get him back on his feet – literally. The current challenge is his inability to stand or walk, which requires intense therapy.
As I spoke to him on the phone the day he entered assisted living, I could hear his discouraged tone about being there. As many of you have experienced, his generation is averse to medical care and has the "I can do it on my own" approach to most things.
But, as his therapy goes on, I notice less of a negative approach to assisted living and more of a motivation to put in the hard work to be able to go home. I am so appreciative of the countless nurses and doctors that are patient in offering my grandfather the best possible care.
Even with this encouragement, it is challenging to listen to a loved one as he suffers through a tough time in his life.
I want to encourage those of you in the same situation as my family to stay positive and motivational to offer the best possible support to your loved one in assisted living or home health. While they are at a low point in their life, there is nothing more helpful during therapy than a supportive group of family and friends to lift them up when they feel down.
Despite all the emotional toil, I am so thankful for the fact that my grandfather, "PawPaw," is alive and even has the opportunity to be in an assisted living facility to receive care. Take time to encourage your loved one today and be encouraged by the little victories every day