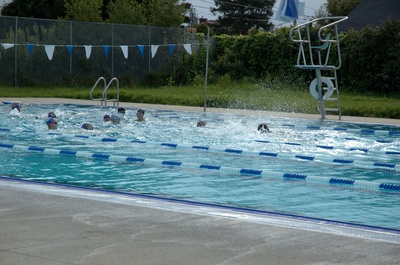 Pool Workouts and Therapy for Seniors Nurses Guild Post
It is very important to stay active as a senior, especially if you are working on regaining mobility or recovering from illness or injury. While you may have physical activities during your home health care routine or therapy regimen, physical activity can be a fun way stay healthy and spend time with friends.
First of all, regular exercise as a whole is extremely important, whether you require home health care, therapy or are just trying to build overall wellness. Physical exercise helps lower the risk of "chronic and debilitating illness such as diabetes and arthritis while increasing your cardiovascular health and lung function. 1"
When it comes to pool workouts, there are major benefits over other forms of exercise, especially for seniors. When it comes to geriatrics, many times, patients struggle with severe joint pain and arthritis as well as brittle bones. Exercises in water decrease stress on joints and bones that one would experience walking or running on pavement or a treadmill and can help care for upper and lower bodies that require therapy from a home health nurse or care provider. 1
While many people shy away from pool therapy because they don't have to swim, some of the most senior-friendly pool exercises can be done in the shallow end. Try leg swings by holding on to the side of the pool and swing one leg out, holding for five seconds and then try the other to strengthen your quad muscles. For arm therapy, put your arms to your sides in the water, forming a "T" with your body in the water. Move your arms in a circular motion in one direction and the other for 10 seconds each.  For more exercises, check out the Livestrong Article, "Pool Exercises for Seniors." 2
If you don't feel comfortable trying pool exercise and therapy on your own, contact your local recreation center or YMCA to see if they offer a water aerobics course to get you started.
Before doing any physical activity independent of your therapy or home health care routine, be sure to consult your doctor or home health nurse to make sure they feel comfortable with the activity. Don't jump straight into a full workout if you have not been physically active in the past. Build into your pool workouts, starting with short exercise periods and longer rest periods and keep your exercise to 10 minutes or less to start.
1Trimarchi, M. (2011) 5 Water Exercises for Seniors. How Stuff Works. Retrieved March 19, 2014 from http://health.howstuffworks.com/wellness/aging/senior-health-lifestyle/5-water-exercises-for-seniors.htm
2Patterson, J. (2013) Pool Exercises for Seniors. Livestrong. Retrieved March 19, 2014 from http://www.livestrong.com/article/132555-pool-exercises-seniors/