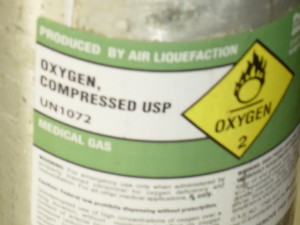 Oxygen tanks are an important part of many seniors' lives and are extremely convenient due to portability and ease of use. With that said, it is imperative to understand how to safely use portable oxygen tanks to avoid dangerous accidents.
Potentially the most frequently overlooked precaution when using an oxygen tank is staying away from open flames or objects that can emit a flame. This includes household appliances such as gas water heaters, stoves and water heaters. If it can spark a fire, it can be a serious danger to the person using the oxygen tank and those around them.
Other household products can also be dangerous when using a portable oxygen tank such as rubbing alcohol, gasoline and hairspray. It is always better to be safe than sorry when it comes to these products. Equipment that runs on electricity such as hair dryers and straighteners can also spark a fire and should be approached with caution.
While this seems obvious, it is important never to smoke when using an oxygen tank. Also, turn the system off when it is not in use to prevent accidental mishandling.
Be sure when using and storing portable oxygen tanks that they are secure and stored in a cool place. If the tank is not secure and it falls down, it could release the air causing the tank to be projectedthrough the air and injure someone. With that said, always use a backpack, bag or cart to transport the tank.
While some of these dos and don'ts may seem obvious, they are often overlooked, resulting in serious injuries. As a rule of thumb, be overly cautious when using portable oxygen tanks so that you are not sorry later.
Sources: http://seniormedicalnews.com/portable-oxygen-tank-safety/
http://www.childrensmn.org/Manuals/PFS/HomeCare/096936.pdf