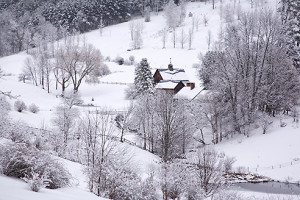 Winter Warnings for Seniors
When it comes to weather changes like extreme heat and cold, it is very important for seniors to know the risk factors and take extra considerations to keep yourself or your loved ones safe.
Staying warm is the most obvious consideration. The rule of thumb is to be over prepared for any situation. Take this winter for example, Southern states like Texas and Georgia were blasted with snow and ice, crippling the states and leaving many stranded. Make sure you have the proper clothing for winter weather – seniors are more likely to get hypothermia than others. When you leave your home, make sure your body is properly covered, including a hat and gloves. Dress in layers to make it easier for you to adjust to a healthy comfort level. If you are unsure about the proper clothing, ask your home health nurse or therapy care provider. As a rule of thumb during the winter, keep your thermostat around 68 degrees. In addition, have the heaters in your home and car checked before the winter begins, as it will be too late if you have a problem when repairs have increased wait times.1
Emotional health is a less recognized issue that requires serious attention in the winter season. Gloomy skies and dreary weather affects even the youngest, healthiest of people. When it comes to seniors, depression runs rampant in the winter when normal activities are put on hold for the holidays and bad weather prevents family and friends from visiting. It is very important to be proactive during the winter months to plan activities and stay active. If you are reading this on behalf of a loved one, go out of your way to involve them and make sure they feel loved. Of course, if your loved one has home health needs, the nurse offering care is a friendly face, but therapy is only so long each week – they need family and friends. This is especially true for loved ones living in assisted living facilities. 1
Slipping and falling is always a risk factor for seniors in the home, especially those who require home health, therapy or assisted living. According to Protected Tommorrows and the National Institutes of Health, "more than 1.6 million older Americans go to the emergency room each year for fall-related injuries.1" This danger is multiplied when it comes to the winter season and ice that can accumulate on sidewalks, in parking lots and on roadways. Never drive if you do not feel comfortable with the condition of the roadways. If you aren't sure, call your local officials to learn about the status of the roads and their safety. The worst thing you can do is go out and get stuck in the bad conditions. If you cannot make it to therapy, call your nurse and request a house call for therapy or care. Also be sure to wear tennis shoes with good traction on the bottom. Avoid heels and always use handrails. Stay inside as much as possible.1
As always, make sure you are eating plenty of healthy foods and staying hydrated by drinking water, nutrition is very important for seniors in extreme weather situations. Seek the advice of your home health nurse, therapy nurse or care provider for more information on healthy eating habits.
What other considerations should seniors take in the winter?
Source:
1 Protected Tomorrows: "Cold Weather Health Tips for Seniors." http://protectedtomorrows.com/community/articles/196.php